RTLS monitoring of people working at hazardous workplaces outside buildings (using GPS)
RTLS monitoring of people working at hazardous workplaces inside buildings (using Bluetooth)
Monitoring of motion and position, detection of immobility, lying position, and fall, emergency SOS button
Localization of people in real time - RTLS
Special mobile phones for monitoring in explosive environment (EX)
About the system
Merya RTLS mobile is a wireless system for monitoring people working at the hazardous or standard workplaces, by using mobile phones with Android OS and RLH-Mobile security app. The technology is used for localization of people and objects in real time (RTLS) in form of 2D/3D visualization on a map base, in form of labels with their corresponding names. The system uses ground plan drawings of objects, or offline maps known as the service mapy.cz. The app in mobile phone uses integrated sensors to detect changes in the position of person (a lying person), person's immobility (a loss of consciousness, etc.), person's free fall, and SOS call for a help. Thanks to the monitoring, you can ensure the security of patients, elderly and disoriented people, children on their way to school, etc. Monitoring can be realized in individual areas of the object (building) and also outside of it. The localization accuracy inside the buildings depends on the number of detectors. The localization accuracy outside the buildings depends on the accuracy of GPS service. Merya RTLS provides signaling of a movement, or a stay in the dangerous area. The system displays the position of all persons either online, or historicaly from a record. Merya RTLS also provides a monitoring of persons in environments with the risk of explosion (EX), using a mobile phone with a certification for explosive environments.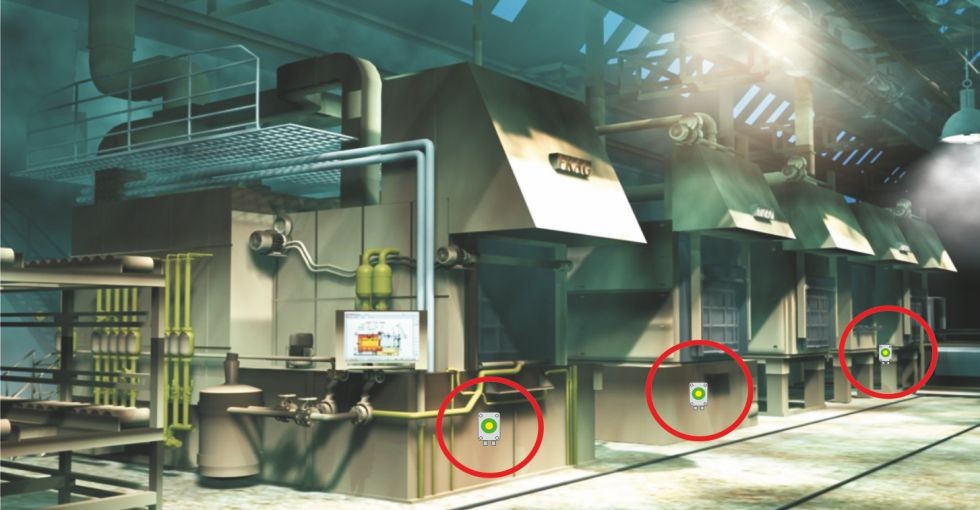 Description of the RLH-Mobile app for mobile phones
RLH-Mobile app is designed for mobile phones with Android OS that are equipped with the necessary sensors. Numerous mobile phones today meet this condition. RLH-Mobile app is very simple and user friendly. All elements are located on a single screen. The program can be (not necessarily) set so that the phone is exclusively designed just for this app, and does not allow to perform other operations to common users. The "RLH-mobile" app is password-protected and without the password the app can't be turned off nor you can change its operating parameters. The app can detect a lying person (even if the person moves), person's immobility (in case of loss of consciousness, and the like), a free fall, and has a large "SOS" icon to call for a help in case of emergency. The app indicates these security avisos and alarms acoustically and by vibrations, and sends these states to the central unit. In case the person doens't respond to aviso, the system triggers alarm after a set timeout. Battery lifetime depends on the type of the phone, on the period of communication with the RLU central unit, and on the frequency of display's awakening from a sleep (e.g. during alarm). Mobile phone can be worn in a special case (not supplied) on a work suit.
RLH-Mobile app in a mobile phone
monitoring the position of a person (outside, by GPS)
monitoring the position of a person (inside the building, by BlueTooth)
sensor for lying person
sensor for person's immobility
sensor for free fall
SOS button to call for a help in an emergency
a local indication of "pre-alarm"
detection of areas with a permission for device postponement
user control of modes using NFC tags
the manufacturer recommends using this type of mobile phone that has been tested: Caterpillar CAT-S40 (very good properties) or a Samsung Galaxy Xcover-3 SM-G388F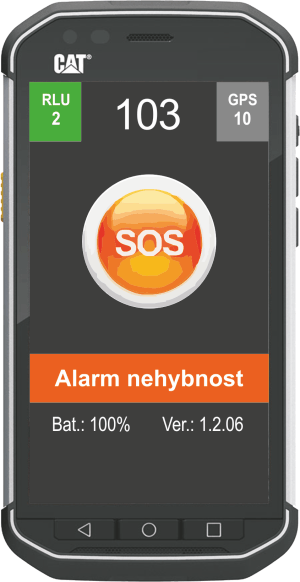 RLH-Mobile app in a mobile phone certified for use in EX environment
same features listed above
The manufacturer recommends using this type of mobile phone:

Sonim Ecom Smart-Ex 01 - certified for EX environment, Ex-Zone 1 / Division 1
Sonim Ecom Smart-Ex 201 - certified for EX environment, Ex-Zone 2 / Division 2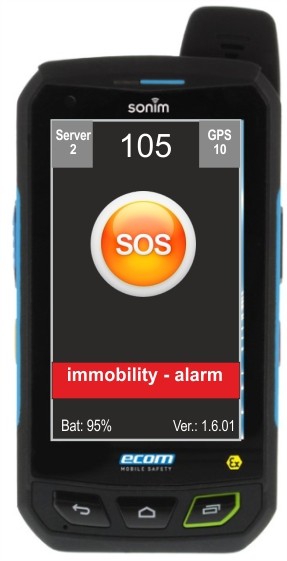 Regular communication with RLU central unit
The RLU-Mobile app nonstop periodically communicates with RLU central unit standardly via GPRS channel, and may also optionally communicate via WiFi network backup. The system can indicate online a fault state, in which the mobile phone or the app isn't able to regularly communicate with the central unit. This ensures a high reliability of the system. The surveillance of the entire system and the state of all monitored people can be carried out via common web browser within LAN network or the Internet. The Merya RTLS program enables to display the position of supervised people using 2D or 3D graphical visualization, online. Records of the above listed alarm situations, and also an information about the permission to stay in the individual areas (permitted or not permitted), are stored in the RLU central unit's memory.
Possible ways of alarm indication
directly in mobile phone
siren at the site of the incident
on a computer screen in dispatch center (online table of people, 2D visualization - maps, 3D visualization - inside buildings)
SMS, e-mail messages
data transmission to the dispatch center
SNMP messages to any other surveillance device
turning of PTZ cameras
automatic call from the phone that detects an alarm situation
Monitoring in an open area
In an open area, the localization of people's position is preferably carried out using GPS satellites. This position is forwarded to the central unit in regular communication messages. This allows the software to display the location and status of people on online maps (known as mapy.cz service). Persons are displayed on a map background in form of functional icons that characterize the state of person (immobility, horizontal position, free fall, SOS call, unauthorized stay in an area, etc.).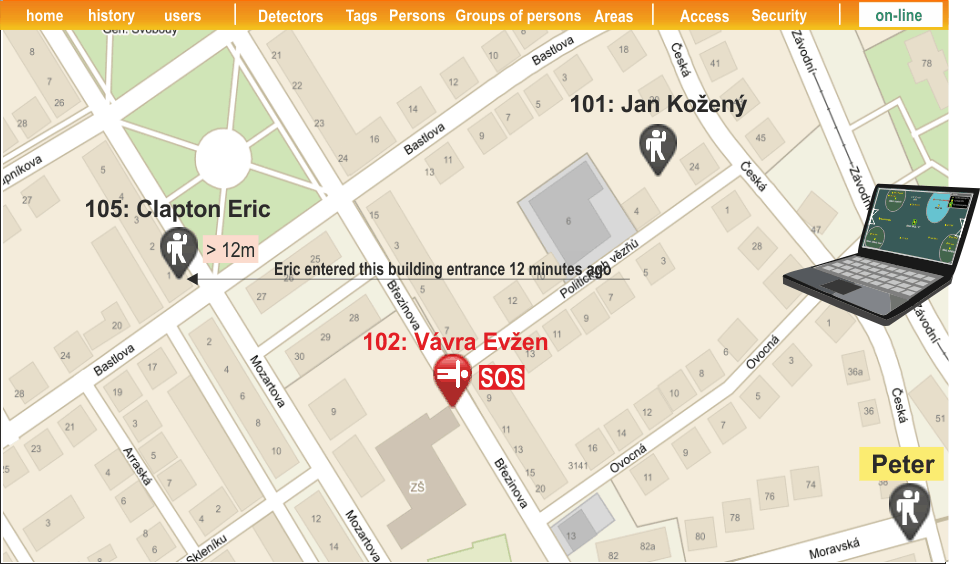 Virtual areas usable in 2D view
You can also define so-called virtual areas (using GPS coordinates) in the system. These areas can be named and e.g. you can use them to define when the programmable logic outputs of central unit should close, in case there is at least one person in the area, etc. These areas can also be used to log information into history, containing areas in which an employee moved and when. For example, the employee Jan Novák was in the area "povrchový důl Sokolov" from 7 am to 3:30 pm. These virtual areas aren't displayed yet in the 2D view agenda.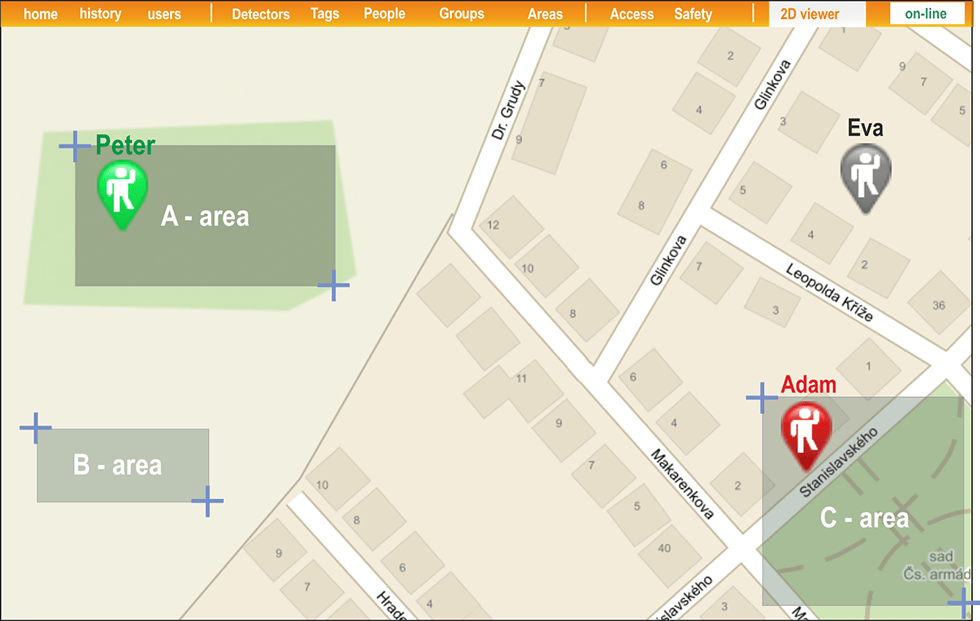 Monitoring inside buildings
Even an absence of a signal from GPS satellites inside buildings isn't an obstacle for the system to locate the position of a person. This localization inside buildings is in fact carried out via RBT-02 or RBT-03 detectors (battery powered), equipped with a BlueTooth channel. The surveillance of the entire system and the status of all monitored persons is carried out in the same way as in the variant of monitoring in the open area. However, when used inside buildings, the Merya RTLS program uses a floor drawing plans of individual floors of (multi-storey) buildings (in PNG format) for a visualization. The Merya system supports multi-storey view of individual buildings. In case that detectors are placed on all floors of the building, the system can determine on which floor the seeked person or a person in distress is located.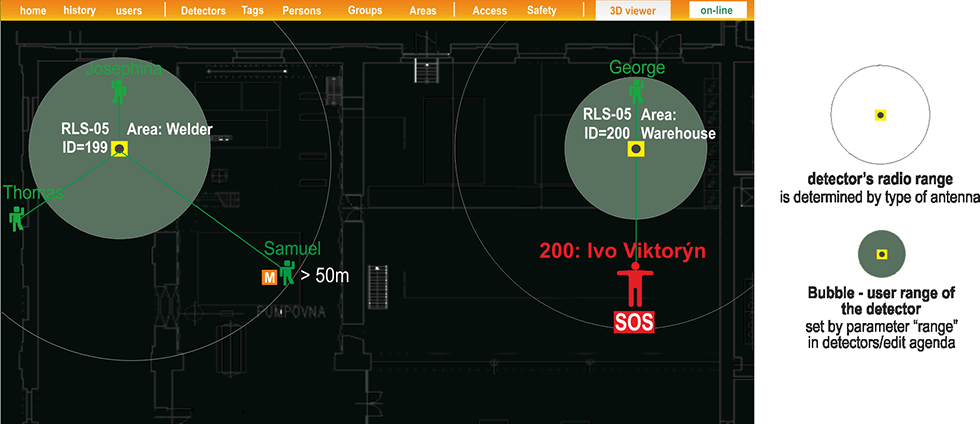 RBT detectors aren't connected to any bus. RBT detectors regularly transmit BlueTooth "beacons" into its surroundings. the app in mobile phone can detect the nearest detector and periodically sends this information to the central unit, via GPRS or WiFi communication. The system can detect RBT detector failure (outage).
RBT-02 detectors are powered by a local power supply, e.g. from power adapter or centrally via cable.
The RBT-03 detectors are powered by a battery, which has a capacity for more than 1.5 years of operation.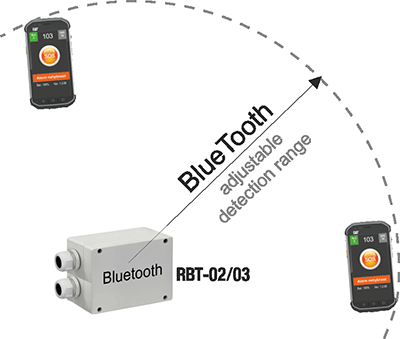 Example of some detection features of the app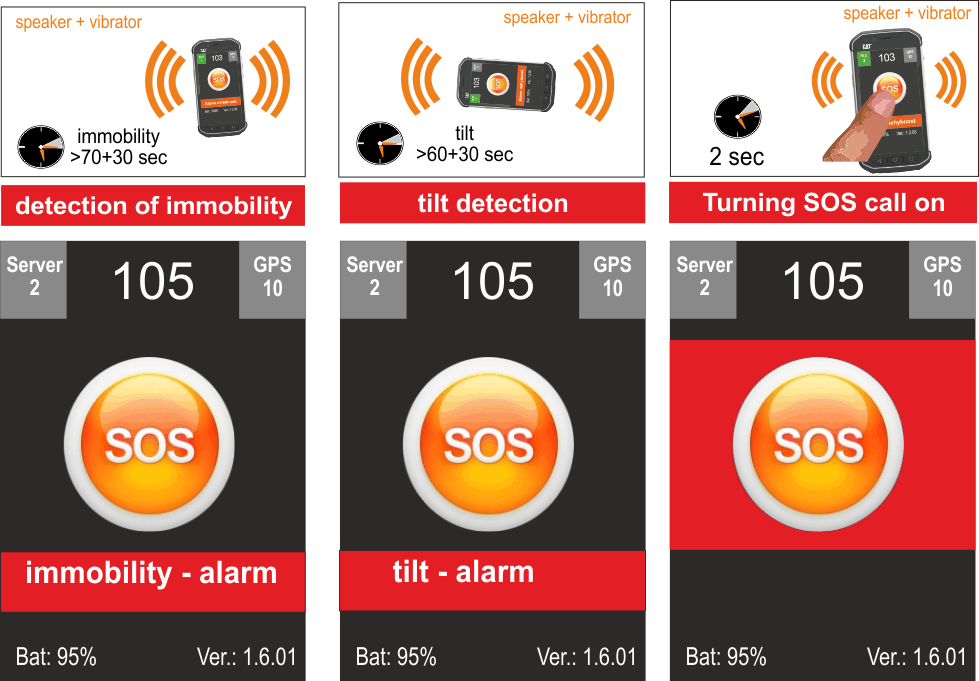 Alarm modes of the system from the perspective of the supervised person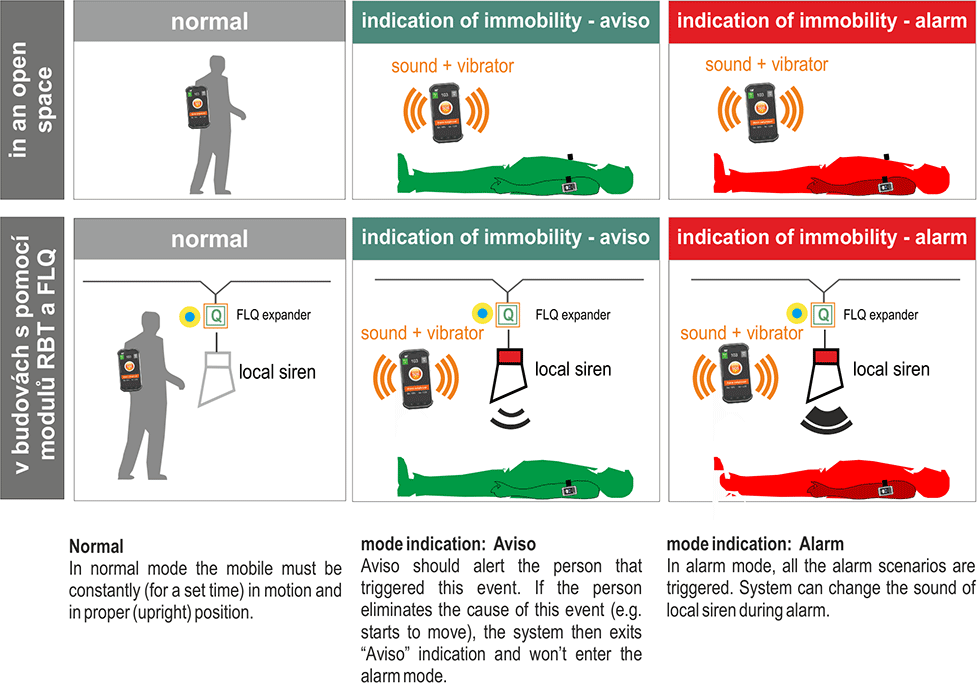 NFC tags for arm mode shutdown (interruption)
The phone has two basic modes: turn on / turn off the arm mode (detection of immobility, tilt, and freefall, and SOS button). These modes can be switched using NFC tags, for a convenience. Optionally, you can configure your phone to a special mode, that allows a re-setting of arm mode (exit Bypass) just by changing the position of the phone from a horizontal position into a vertical (+/- 40°) for at least 5 seconds.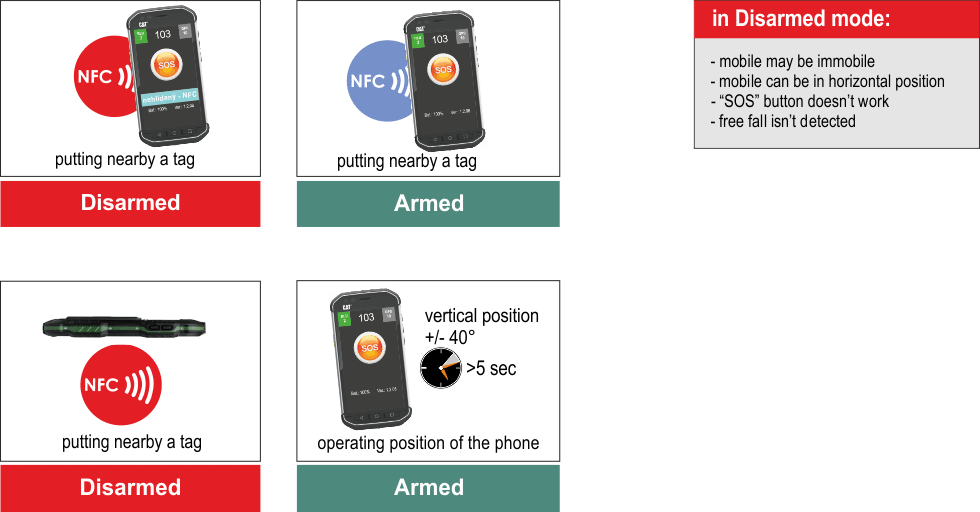 Top